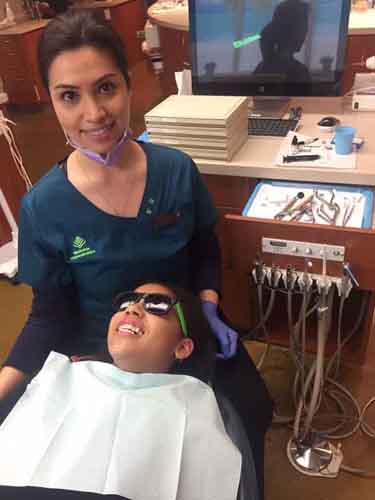 Helpful Orthodontic Tips for New Patients from Sheena!
Over the past number of years, Sheena has noticed that there are some common questions that patients have when they first start their orthodontic treatment. Here are some of the top questions she gets asked and her answers:
Q: Will braces hurt?
A: Putting braces on does not hurt. However, a few hours later you may feel soreness on your teeth. Braces work with a light consistent force, which is what you may be feeling. Usually soreness/tenderness of the teeth can last 3-5 days.
Q: When can I get my braces off?
A: Dr. Adams or Dr. Kim can give you an estimated amount of time for the
treatment, but every case is unique. Some treatments may go longer or require less time than originally estimated. Our priority is to make sure the treatment is successful. We'll definitely let you know if the estimated time might change.
Q: Can I play sports with braces?
A: You can definitely play sports with braces! However, we highly suggest getting a custom
made sports guard for protection. We can custom make one for you, too! Ask us how you can get one made.
Q: Will braces affect my speech? Will I sound strange when I speak?
A: Some people adjust more quickly with braces than others. For some people, speech may be altered slightly (lisp) at the start, but it usually goes away very quickly.
Q: What can I eat with braces?
A: Stay away from hard, crunchy and sticky foods. These types of foods will cause the braces or molar bands to break and become loose in the mouth. If you are still unsure about what you can eat, just let us know at your next appointment and we can give you a list of braces-friendly foods or foods to avoid during your treatment.